This web-page is a continuation of the butterflies and moths found in the Merritt area of British Columbia, with text and photographs by local naturalist Bob Scafe. To go to the first page of this butterfly/moth series click here: Know your butterflies and moths
To see a list of the peak flying times for common species in the Merritt area click here:
Peak flying times for butterflies in the BC Southern Interior
---
Gray Hairstreak (Strymon melinus)
Wingspan 25-30 mm
A butterfly of British Columbia's southern interior, the subspecies found in the Merritt area is Strymon melinus setonia. Another B.C. subspecies S.m. astrofasciatus is found in the Nanaimo area of Vancouver Island. The Gray Hairstreak is often found in or about family gardens, and seems especially fond of bean plants. In our area Gray Hairstreaks are on the wing late March through mid October, with populations peaking in May and July.
Larval and adult food : Common larval food plants include hops and beans, plus roses, legumes and mallows, while the adult butterfly nectars on alfalfa, wild onion, dogbane, rabbit brush, sweet clover and goldenrods.
Photo and field notes: This Gray Hairstreak was found in our garden on July 20, 2015, laying eggs on the flower buds of a Hollyhock plant. It seems the larvae prefer the flowers of plants over leaves and stems, so it is likely this flower will open just in time to meet the needs of the newly hatched caterpillars.
---
Vashti Sphinx Moth (Sphinx vashti)
Wingspread   75 to 100 mm
The Vashti Sphinx is a seldom-seen night-flying moth. It is extremely variable, with colour ranging from very pale to very dark gray. Its range is from British Columbia to Manitoba and south to the mid western and western states. It can be quite rare in parts of it's range. It is found in mountain woodlands and prairie stream courses. Fully grown caterpillars pupate in underground chambers, and the moths are seen on the wing, May to July.
Larval and adult food : The larvae feed on snowberry and coralberry, while the adults feed on honeysuckle and columbine.
Photo and field notes: This moth was found in our patio area resting on a cushion on May 4th, 2016. I moved it about to get better light, in order to take these pictures. It seemed not interested in flying off in daylight, but was gone the following morning, having left during the night.
---
Western Tailed Blue (Cupido amyntula)
Wingspan 28 – 30 mm
Sadly, this little butterfly is often ignored because the ventral view of the wings is quite lacklustre, with only one small orange spot, and very faint black dot-like markings on the ventral hind wing. Dorsal view of males is a purplish blue, females are a warm slaty brown. Then you notice the small tail on the back of the hindwing, and everything changes in a hurry. Caution – the tail is often inconspicuous. It is found mainly in undisturbed or largely natural moist habitats, stream banks, meadows, and borders. The Western Tailed Blue flies late March to mid September, peaking in May and August.
This butterfly is sometimes confused with the Eastern Tailed Blue (also found in B.C. – see the next species below), which has 2 orange marks and more prominent black markings on the ventral hind wing.
Larval and adult food: Larval foods consist of various bean family plants, legumes, including vetches, while nectar sources for the adults include Knapweed and rabbitbrush. Male butterflies mudpuddle and visit coyote and other scat piles.
Photo and field notes: This Western Tailed Blue was photographed June 2, 2016 on Fox Farm Forest Service Road, while it "mud puddled" on a wet patch of soil to gather salts and minerals to strengthen it's sperm packet.
---
Eastern Tailed Blue (Everes comyntas)
Wingspan   22 – 26 mm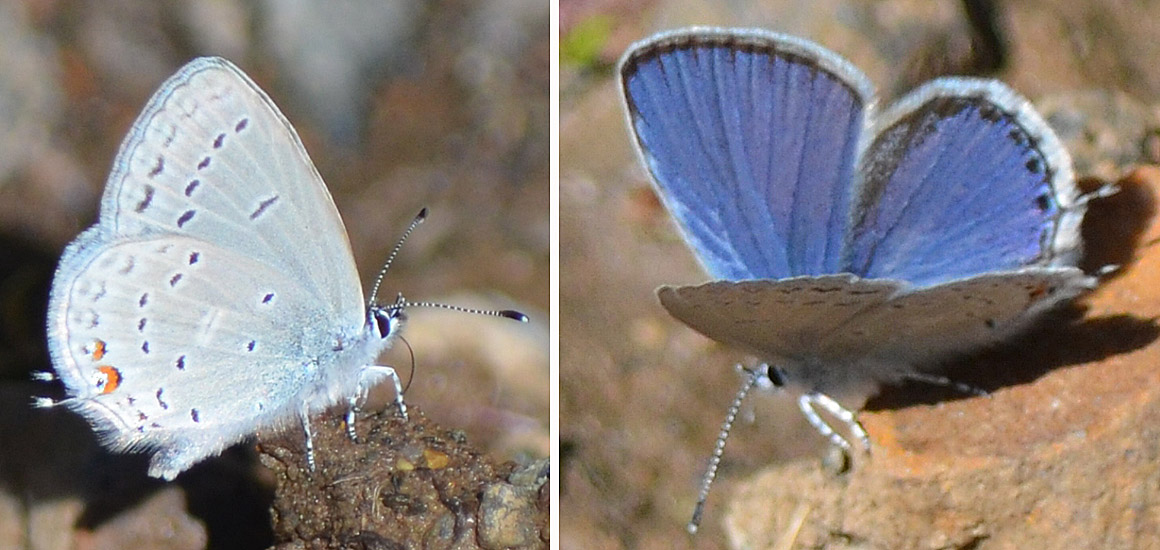 Eastern Tailed Blue (Everes comyntas) photographed at Comstock Forest Service Road near Merritt, May 6, 2016. Photo: ©Bob Scafe
This butterfly is regularly found in Washington state, and is even more numerous in Oregon, but there have been very few reported in British Columbia. Some authors claim there are only three populations of Eastern Tailed Blues in B.C.: one near Vernon, and the others in the eastern Kootenays along the U.S. border. We found this specimen near Merritt on the Comstock Forest Service Road (FSR), about 3 km in from Coquihalla exit 276, and the following day, we found several more approximately 3 km in on the Fox Farm FSR. Fox Farm FSR runs along the north face of Iron Mountain, while Comstock FSR runs along the south face of Iron Mountain. It is likely that Iron Mountain hosts another isolated population of Eastern Tailed Blue Butterflies.
The sightings in B.C. were in May and July, matching the observations in Washington and Oregon of these butterflies on the wing from early April to early August. The population peaks were noted in both May and July. It is proposed that Eastern Tailed Blues were transported to the west on nursery stock, either as eggs or in their larval form.
Conservation status: The Eastern Tailed Blue is listed as Special Concern in B.C. (S3).
Larval and adult food: Caterpillars feed on lupines, vetches, clovers, alfalfa, and peas, while the adult butterfly nectars on marigolds and daisy fleabane.
Photo and field notes: This butterfly is likely newly emerged, as it is in such beautiful condition, and not showing any signs of wear as it forages roadside for salts and minerals from the damp soil. The pictures were taken on May 6, 2016, on Comstock Forest Service road, beyond the 3 km marker.
---
Boisduval`s Blue (Icaricia [or Plebejus] icarioides)
Wingspan 25 – 35 mm
One of many small beautiful blue butterflies found early in the season of B.C.'s southern interior, the Boisduval's Blue butterflies live in isolated colonies, preferring forest glades and roadsides, grasslands, shrubby plateaus, and subalpine meadows, almost always within 50 meters of the larval food plant, Lupines. Local subspecies is I. i. pembina.
Life cycle: The larvae overwinters about half way through the larval stage, to continue growing the following spring. The adult flies early April to early September, peaking May through July.
Larval food plants: The larvae feed on leaves of the Lupines, but switch to the flowers later in their lives.
Photo and field notes: This Boisduval's Blue (subspecies pembina) was photographed May 29, 2015 at Kentucky Alleyne Provincial Park and is shown nectaring on wild strawberry flowers.
---
Greenish Blue (Plebeius saepiolus amica)
Wingspan 24 – 28 mm
We have all heard the expression, "the chances are slim to none, and slim left town".  Well, that is what most authors of butterfly books will tell you about the Greenish Blue. Chances of finding one showing any green are slim to none. So, why give this butterfly the name, Greenish Blue? It seems someone, way back, saw a touch of green on the wings of the butterfly, the common name was given, and it stuck. As with many Blues, the male dorsal view is a uniform blue with black margins and white fringe. The female dorsal view shows a brown wing with white fringe. The ventral wings vary from a light tan to a heavily spotted slate grey, the female having noticeably smaller spots.
Subspecies P. s. amica is found throughout British Columbia, with exception of the coastal regions. It is also found in Yukon, NWT, Alaska, Alberta, and east to Nova Scotia. Notable, is the fact the Vancouver Island subspecies P. s. insulanus is believed extinct, and is known only from historical records, and may now, possibly, be globally extinct.
The Greenish Blue is on the wing May through August, and peaks in late June and early July.
Larval and adult food: Larvae and adults feed extensively on native and introduced clovers.
Photo and field notes: This butterfly was photographed on July 3, 2016 in Kentucky-Alleyne Provincial Park, where the road to Bluey Lake intersects with Bates Road, which runs the length of the park. If you look carefully, you can see a faint green blush on the outer margin of the wings.
---
Spring Azure   (Celastrina argiolus)
Wingspan 28-30 mm
This little butterfly is interesting for all the different "varieties" in which it appears in the Merritt area. The most common subspecies is C. a. echo, but there are a couple more variations. C. a. lucia has also been given subspecies status, and C. a. marginata is considered a "form", but so far, is not a subspecies. Subspecies C. a. nigrescens is most often found in the Kaslo B.C. region. (not shown)
Overwintering as a pupa, the Spring Azure is one of our very earliest arrivals in the Merritt area. It is on the wing from very early March to early October, and populations generally peak in both April and August. The males are great mud puddlers, also visiting fire pits and scat piles.
Larval and adult food: Larvae feed on a wide variety of foods, the main ones being dogwood, elderberry, huckleberry, cherries, and spirea. The adult butterflies feed on the flowers of cherry laurel, heather, garden currants, bluebells, stream violets and others.
Photo and field notes: These photos were taken in late April and early May, about 3 km in on both Fox Farm Forest Service Road and on Comstock Forest Service Road.
---
Canadian Tiger Swallowtail (Papilio canadensis)
Wingspan 70 – 105 mm
These large and beautiful butterflies are found along forest edges, stream channels, gardens, and woodland roads. They fly May through July, peaking in June.
Larval and adult food : Larvae eat willows, poplar, cherry, ash, chokecherry and crabapple. Adults readily come to nectar on lilacs in gardens, and thistles.
Photo and field notes: This colourful butterfly has been photographed alongside Nicola Lake, on both Fox Farm and Comstock forest service roads, and in the Kentucky Alleyne Provincial Park.
---
Pale Swallowtail   (Papilio eurymedon)
Wingspan 75 – 110 mm
While this beautifully marked butterfly is known through the southern third of British Columbia, it is in fact, only found in isolated pockets, and the majority of sightings are along the US border. Known hot spots are the Pend d'Oreille valley near Castlegar, and Osoyoos to Rock Creek. They have also been reported at Otter Lake boat launch area, and Christina Lake. The Pale Swallowtail is not seen regularly in the Nicola Valley.
They are found in valleys, and stream courses in mountainous country, beginning in late April till late September, with populations peaking in May and June.
Larval and adult food : Larval foods are cherry, crab apple and tea bush, while the adult butterflies nectar on chokecherry, and many flowers, including lilac and phlox.
Photo and field notes: These pictures were taken June 17, 2016, on the Patchett – Spius Forest Service Road, where we were attacked by several male Pale Swallowtail butterflies, as they patrolled a portion of the road. There were many of them, never landing, but constantly patrolling, searching for females to mate with. Later that afternoon we were fortunate enough to find a "puddle party" of Pale Swallowtails, gathering salts and minerals on the damp sandy shore of the Spius Creek. Two days later at another puddle party they were gathered on very old, run over, and dried out, cow manure.
---
Two-tailed Swallowtail   (Papilio multicaudata)
Wingspan 85 – 120 mm
The Two-tailed Swallowtail is named for the two extensions from the base of it's tail, and is the largest of the swallowtails found in Canada, and the Merritt area. Larger swallowtails are only found in the southern United States and Mexico. The Two-tailed Swallowtail is on the wing from April to September, peaking in June.
This butterfly is truly a showstopper, as it swoops in to feed on flowers, lilacs being a favourite. It is also easily approached so long as you advance slowly, watching the butterfly for signs of nervousness. It is a photographers delight, as it will bask in the sun while it feeds, slowly opening and closing it's wings, constantly moving about the flower heads. One moment it is right side up, the next, it is seemingly defying gravity, hanging upside down, while it continues to feed.
Larval and adult food: The larvae feed on cherry, crab apple, saskatoons, willow and poplar, while adults nectar on cherries, thistles, knapweed, various mints, and a variety of garden flowers, lilacs, as mentioned being a favourite.
Photo and field notes: The pictures were taken May 29 and 30 in our Merritt garden, as the butterfly nectared on lilac .
---
 For more butterflies and moths of the Nicola Valley area click here: Know your butterflies and moths